Sri Sri Institute For Advanced Research

The Art Of Living Research Wing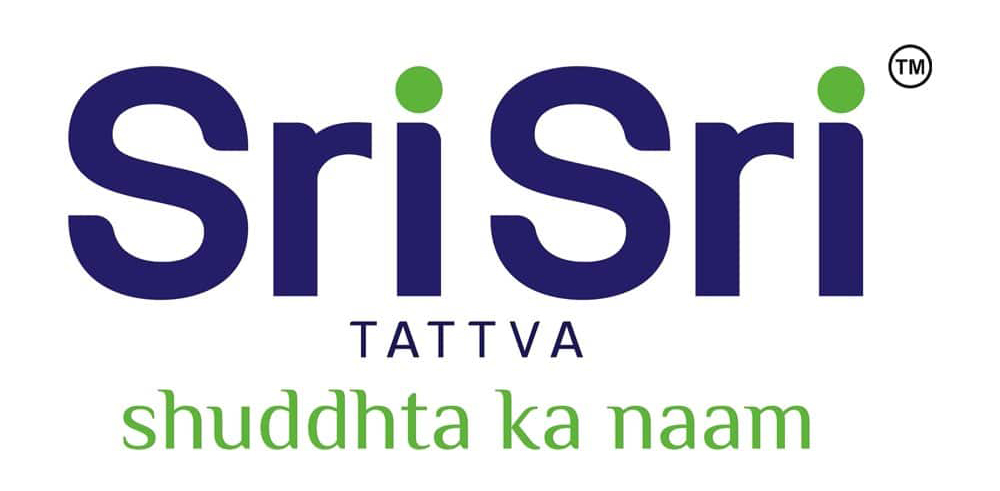 Summary of Research on Sri Sri Tattva NOQ19/NF2



Executive Summary
The coronavirus disease 19 (COVID-19) pandemic is unprecedented and has posed a humongous global challenge to human health and the entire healthcare system. At present several allopathic drugs are under investigation for treatment of coronavirus disease, but they are failing to contain the spread of virus effectively. No allopathic drug has been proven as a cure so far.
Ayurveda, the traditional system of medicine practiced in India can be traced back to 6000 BC. It is one of the ancient living traditions. There has been an increased global interest in ayurvedic solutions for modern health challenges. In Ayurveda many treatment options are available which can increase immunity against respiratory infections. Indigenous medical systems use specific polyherbal formulations for the treatment of such infections with considerable success. Evidence-based research in Ayurveda is receiving larger acceptance in India and abroad.
It is necessary to explore holistic cures for COVID-19 because of the increased side effects, adverse drug reactions and cost of the western medicines. In this report, we bring to your notice an unique drug formulation, Sri Sri Tattva's NOQ19, based on ancient ayurvedic wisdom which has great potential to emerge as a therapeutic option, as well as a prophylactic for COVID-19.
A polyherbal ayurvedic formulation, Sri Sri Tattva NOQ19, that have been known and proven for their strong antiviral effects combined with immune enhancing and modulating effects. .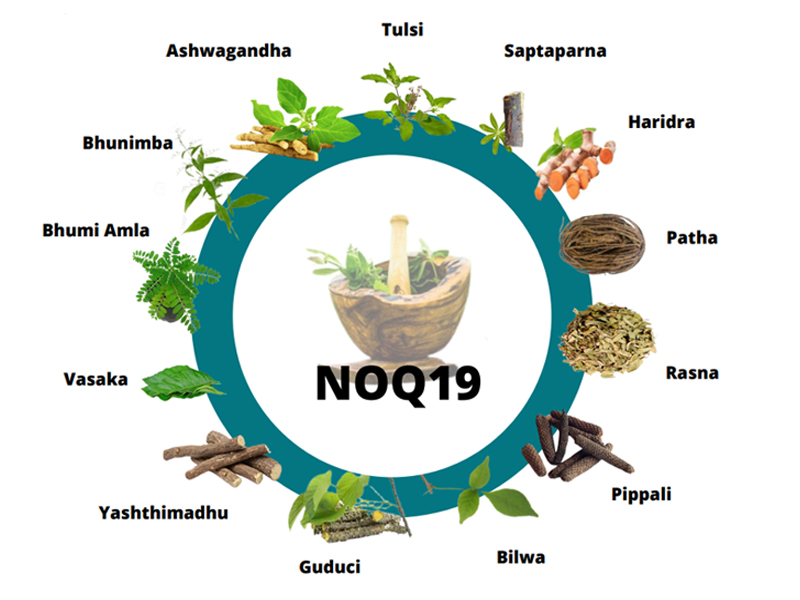 NOQ19 composition contains following 13 herbs which have beneficial properties effective against various symptoms of SARS-CoV-2.


| Common Name | Scientific Name | Useful Therapeutic Properties proposed/tested during outbreak of SARS-CoV-2 |
| --- | --- | --- |
| Ashwagandha | Withania somnifera | Analgesic, mildly sedative, anti-inflammatory and anabolic activities and it is useful in stress, strain, fatigue, pain, chronic fatigue syndrome, etc and even during pregnancy without any side effects, anti SARS-CoV-2 activity in computational study |
| Bilwa | Aegle marmelos | Treatment of chest congestion, cold, cough and sinusitis, anti inflammatory, immunomodulatory and antiviral properties. computational study showed that seselin from Aegle marmelos inhibited the replication of the SARS-COV-2 viruses. |
| Yashtimadhu | Glycyrrhiza glabra | Anti-inflammatory, anti-bacterial, anti-fungal, anti-diabetic, antiviral, anti-ulcer, antitussive, anti-oxidant, inhibits the growth of viruses including herpes simplex, Varicella zoster, and of Japanese encephalitis, influenza virus, vesicular stomatitis virus, type A influenza virus. Glycyrrhizin does not allow the virus cell binding. Recent study on two clinical isolates of SARS virus (Severe Acute Respiratory Syndrome virus) [FFM-1 and FFM-2] gave valuable insight about anti-viral activity of glycyrrhizin. |
| Vasaka | Adhatoda vasica | Antiviral, hepatoprotective, antitussive,antibacterial, anti-inflammatory, antitubercular, antioxidant, antimutagenichave, its immunomodulatory properties. |
| Pippali | Piper longum | Appetizer, beneficial for the throat, anti-saturative, an adjunct to decoction enema, a cleansing nasal therapy, anti colic, a rejuvenator, Bio-availability enhancer, immunomodulatory, anti-asthmatic and hepatoprotective activity, immuno-suppressant, stimulant effect, hepatoprotective, Hypocholesterolemia activity, anti-inflammatory, anti-amoebic and antibacterial. |
| Patha | Cissampelos pareira | Treatment of cold , cough and respiratory disorders. It also shows the anti viral and antibacterial properties. |
| Haridra | Curcuma longa | Relives worm and microbial infection,powerrfulanti bacterial, anti inflammatory and anti allergic herb, treat gastrointestinal upset, arthritic pain and liver ailments,anti inflammatory, anti oxidant. |
| Bhumiamla | Phyllanthus fraternus | Treatment on fever, inflammation of liver and spleen, jaundica and skin diseases. It is also indicated in anemia, asthma and chronic respiratory disorders. |
| Bhunimba | Andrographis paniculata | analgesic, antipyretic,antiulcerogenic,antineoplastic, antiinflammatory, antibacterial andantiviral activities. |
| Saptaparna | Alstonia scholaris | It detoxifies and cleanses blood. It is beneficial in treatment of wound, intestinal worms, fever and asthma. Antiviral. |
| Tulasi | Ocimum sanctum | Treatment of epilepsy, asthma or dyspnea, hiccups, cough, skin and haematological diseases, parasitic infections, neuralgia, headache, wounds, and inflammationand oral conditions. |
| Guduci | Tinospora cordifolia | Immunomodulators, antidiabetic medicine, anti allergic, anti leprotic and anti inflammatory agents, SARS-CoV-2 inhibitor under in vitro and animal studies. |




Some of the compounds mentioned above have been shown to have stronger binding capacity than Remdesivir in a molecular docking study in response to viral infection.
As the world struggles with COVID-19 due to lack of a cure or a vaccine, our research explores the efficacy of NOQ19 as therapeutic and prophylactic option. It also explores the efficacy of NOQ19 to serve as an adjuvant to increase the efficacy of the vaccine and serve as a potent prophylactic on its own.
If a solution is found through Ayurveda for the current pandemic, it will propel India and its traditional wisdom to global center stage. This is the time to share the science of ayurveda with the world and this effort to create and test NOQ19 is a giant step in that direction.
Research Studies completed / in progress:
Preliminary research studies conducted on mild and moderate COVID-19 patients have demonstrated NOQ19's efficacy to reduce the recovery time and bring back health quickly to COVID-19 patients.
Based on these observations several clinical and in vitro studies were conducted in reputed Indian institutes.
These include:
| | |
| --- | --- |
| 1 | In vitro studies on cell lines to assess cytotoxicity and antiviral efficacy in SARS CoV2 cell lines |
| 2 | Preclinical study in animal models |
| 3 | Clinical Trials on COVID-19 patients (mild and moderate) |
| 4 | A study to assess if the formulations can enhance the antibody response for the vaccine |
| 5 | Gene expression studies to understand mechanism of action |

KEY FINDINGS
Our studies ranged from testing the efficacy of medicine as a therapeutic option and/or as a vaccine. A large gamut of research studies were conducted that explores the therapeutic and prophylactic aspects of this medicine.
Some of the key findings from first few studies on NOQ19 are,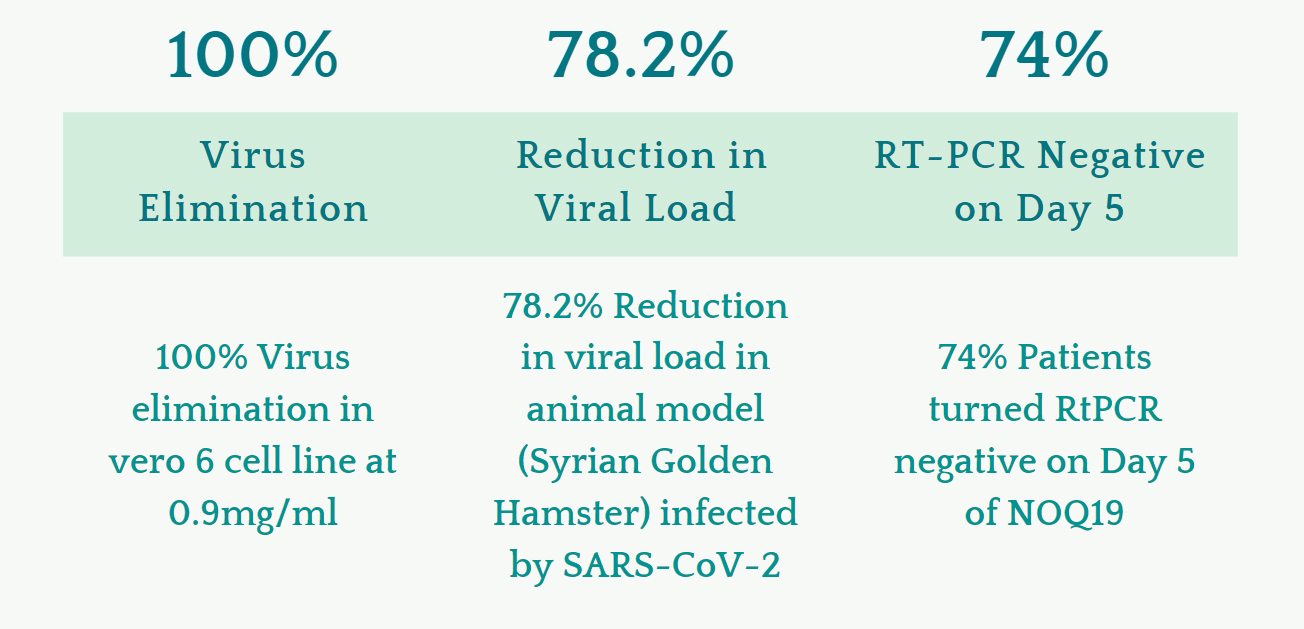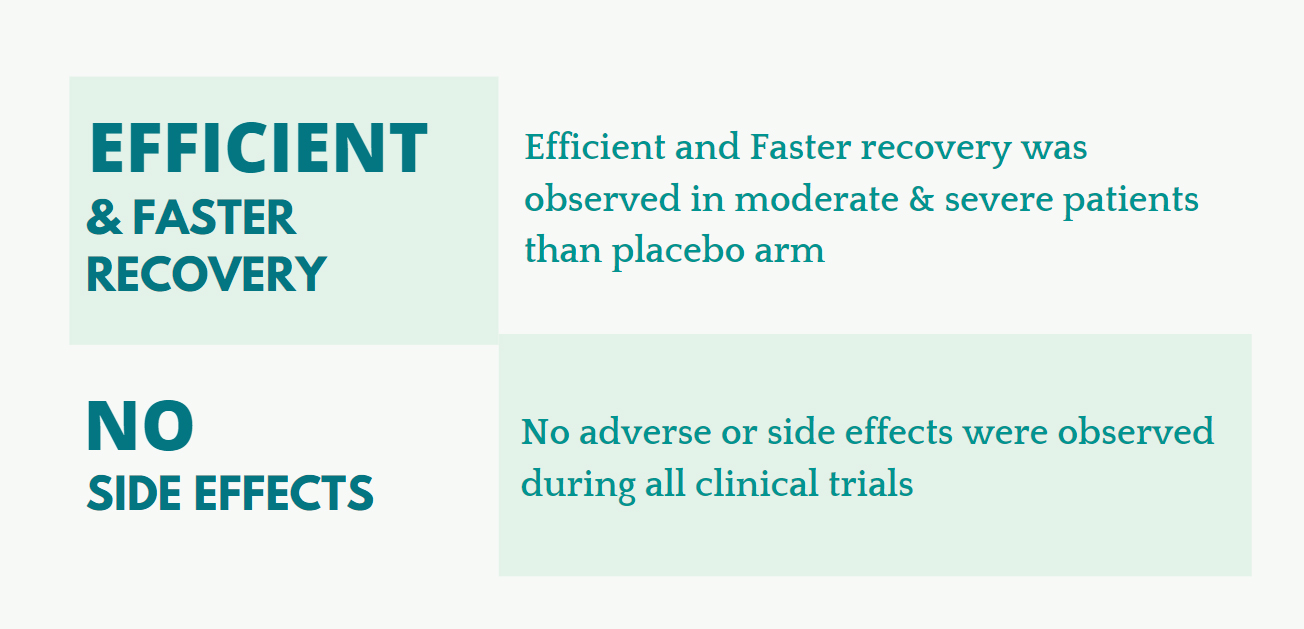 Research Studies on NOQ19
Research Study - 1
Research Study - 2
Research Study - 3
Research Study - 4
Research Study - 5
Research Study - 6
Research Study - 7